OUT AND ABOUT WITH KEN
SNAPSHOTS FROM HERE, THERE AND EVERYWHERE!
Ken poses with Connie Francis, the legendary pop diva of the '50s and '60s, who blazed a path for today's biggest female recording artists.  Having dinner with Connie in Fort Lauderdale was a dream come true for Ken, who has been a fan since he was 12 years old!   
With gorgeous and dynamic jazz superstar Dee Dee Bridgewater at the Blue Note in Manhattan. 
 Signing CDs after a concert in San Antonio.
In London on a promotional trip in 2011.  Ken was a guest on Joanne Good's BBC
radio program, "Late Night with Joanne Good."
Just before Ken went onstage for his New York debut at the Metropolitan Room, he posed for a picture with the stellar jazz trio that accompanied him for that special night.  From left, Phil Stewart (drums), Ehud Asherie (piano), Ken and Joel Forbes (bass).
 With contemporary jazz saxophone superstar Craig Handy in New York.  They met after Craig's CD release show with Dee Dee Bridgewater at the Blue Note.
Performing at Jim Caruso's Cast Party at Birdland in New York City – with the Billy Stritch Trio.
Posing with Jim Caruso at "Jim Caruso's Cast Party" at Birdland in Manhattan.  Whenever Ken performs in New York, he signs up for "Cast Party" and sings – thanks to the ever-gracious Jim and the Billy Stritch Trio.
With famed bandleader and singer Billy Stritch during one of Ken's visits to Birdland to participate in "Jim Caruso's Cast Party."  Billy is from Texas!
With fabulous Debbi Bush Whiting before his November show at New York's Metropolitan Room.  Ken had the honor of singing one of Debbi's grandfather's famous songs to her: "When Did You Leave Heaven?," which is included on his latest CD.
Ken's recordings are featured on the "Singers and Swing" channel on Music Choice.
With John Lombardi, host of "Lounging with Lombardi," a popular internet radio program in New York. He has been playing Ken's CDs for years and helped him land his first gig in the Big Apple in 2013.
Visiting with radio host Ron Forman of WKRB in New York. They were both at Iguana to hear Grammy Award-winning jazz man Vince Giordano.  Ron programs Ken's music on his program, "Sweet Sounds."
Cabaret singing star Maggie Worsdale and Ken with Paul Boskind, Tony Award-winning Broadway producer who executive produced Ken's CD, "You Gotta Have Heart: Ken Slavin Live at The Metropolitan Room in New York."
Standing ovation when Ken was honored as a "Local Legend" by the nationally recognized Carver Community Cultural Center in San Antonio – one of the foremost African-American performance and cultural arts centers in the United States.
Visiting with friends and family after a show at the Metropolitan Room in New York. Immediately to Ken's right are his sister, Alice, and his brother, Al.
Singing on "The Jazz Cafe" at Hofstra University, Long Island, New York.
Grammy Award-winning jazz musician and band leader Vince Giordano and Ken visiting during one of Vince's breaks at Iguana in Manhattan.  Whenever Ken visits New York, Vince always invites Ken to sit in with his 1920s style orchestra The Nighthawks.
Late-night visit in Greenwich Village with dear friends Gerry and Kysehie Gibbs.  Gerry is a nationally acclaimed jazz drummer who spent several years in San Antonio and has had two number-one albums in recent years.  
Ken was thrilled to meet legendary jazz singer Annie Ross when he made his New York debut at the Metropolitan Room in 2013. She performs at the club every week.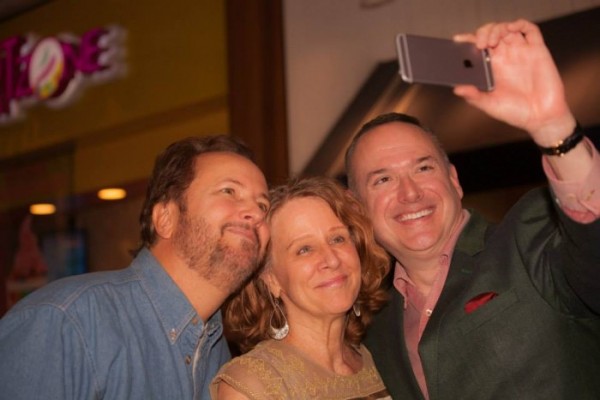 A "selfie" with Chris Duel and Louise Locker during the 2014 "Elf Louise Radiothon" on WOAI in San Antonio.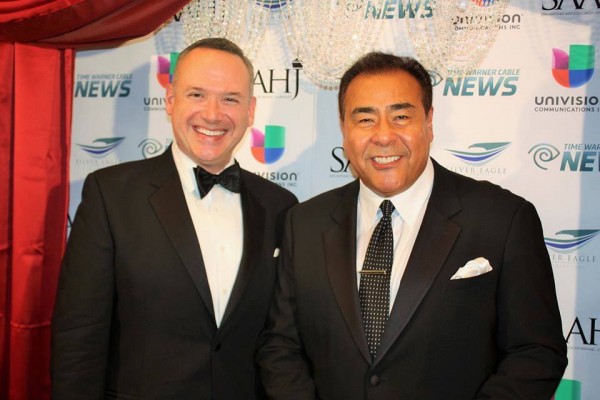 A moment with ABC-TV newsman John Quinones, host of "What Would You Do?" This was at a gala in San Antonio to raise money for Hispanic journalism scholarships.
 Ken sits in at Arturo's in Greenwich Village.  That's  Rafael Lugo on piano and Gerry Gibbs on drums!
On stage at the Metropolitan Room in New York just before Ken's show on Thanksgiving Weekend 2014.  From left: bassist Frank Tate, pianist Barry Brake, guitarist Paul Bollenbach and Ken.